T3Coaching is now on Facebook!


Meet the July 2017 Athlete of the Month, Chuck Lester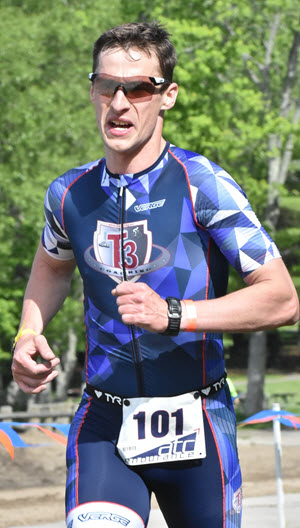 July 2017 AotM Chuck Lester
T3 is proud to announce our
July Athlete of the Month: Chuck Lester
. Chuck has achieved high performance with podium finishes at both the Cooperstown Sprint and Vermont Sun Olympic distance triathlons despite having limitations on the amount of time he can train. Chuck embodies the T3 spirit, balancing family life with athletic performance. We look forward to seeing what the rest of the summer season will bring. Congratulations, Chuck!
---
July 17-20th, 2017, 8-10:00 AM: Kids Triathlon Camp, held at Glens Falls High School. Please contact
Kevin@T3Coaching.net
for info.
---
Ten T3ers will be racing at Ironman Lake Placid. Others will race at Delta Lake and Boston.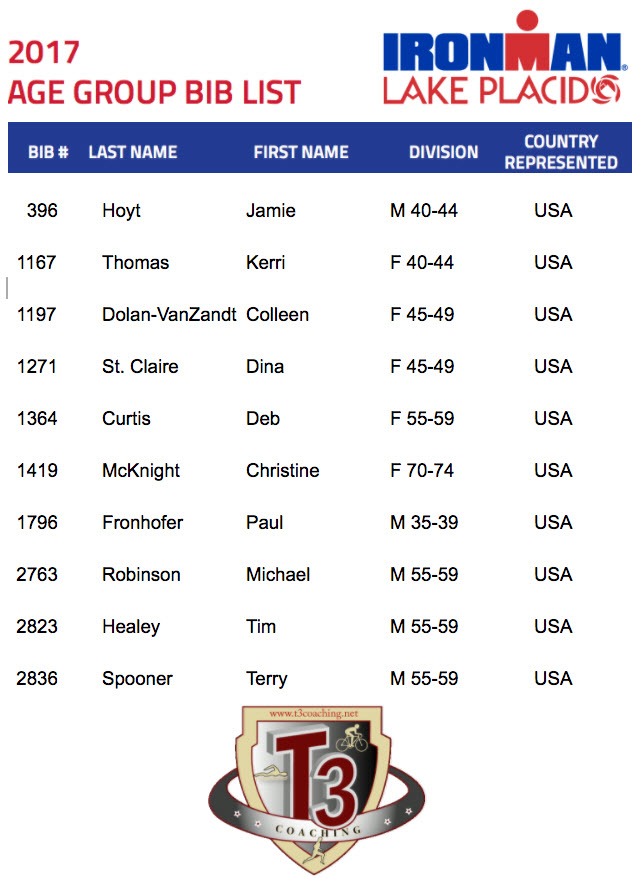 IMLP Bibs
---
T3 held its annual Endurance Camp June 16-18 in Lake Placid. With a new format and new accommodations, 14 athletes worked with 3 coaches swimming, biking, and running on the Ironman Lake Placid course. Evening sessions prepared the athletes for the events of the next day and answered many questions on long course triathlon. Participants made new friends and enjoyed beautiful weather as well.
---
A few years ago I launched the "Hi There" Movement. A recent presentation for the Saratoga Triathlon Club reminded me of this. Very important, so share this with everyone in our community and make our area a wonderful place to exercise.
Click here to read more...
---
T3 Coaching is thrilled to welcome in 2017! While we are really excited about seeing triathletes everywhere reach their goals, we truly embrace the journey even more. We welcome the challenge of working together with our athletes to help them venture outside their comfort zone to discover what they are truly capable of achieving. Our goal is to make this experience fun, safe, purposeful, and rewarding, understanding that each day – each workout – is an opportunity to embrace.

This year our athletes will travel near and far. We have a few competing on the Big Island of Kona (Ironman World Championships), and others attempting their first triathlon in their local communities. Ironman Lake Placid continues to be a staple in our area, with ten athletes registered to compete in the 140.6 distance in July and many others looking to splash into the new Lake Placid 70.3 distance in September. All this, while others will be fine tuning their taper for the 70.3 World Championships in Chattanooga that same September weekend.

No matter the race, the distance, or the location, T3 Coaching is excited to help get our athletes to reach their personal athletic goals. We wish everyone a safe, happy, and healthy New Year!
---