T3Coaching is now on Facebook!


7th Annual T3 Coaching Swim Clinic
Held at the Glens Falls High School Pool, USA Certified Triathlon Coach Kevin Crossman presents the most detailed drills and stroke mechanics to improve swimming for triathletes. Coach Kevin, along with his brother Gary Crossman and 4-time Lake George Triathlon Champion and Olympic Qualifier in swimming, Patrick O'Keeffe, will focus on individual needs and the skills required to be a better Open Water Swimmer.
Click here to read more...
---
November 6th, 2014 :: Starting November 12th, 2014, T3 Coaching brings the spin classes back to Grey Ghost Bicycles for session 1 (10 classes).
See more information here...
---
Introducing Fran Vincent...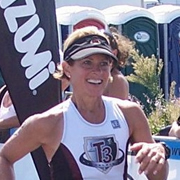 Fran Vincent - T3Coach!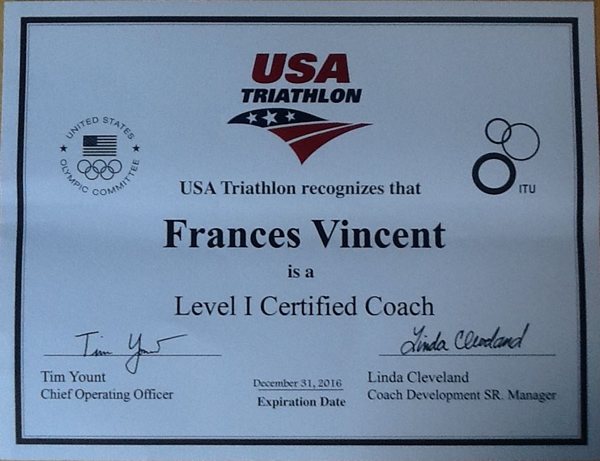 Fran's USAT Coaching certification
T3 Coaching proudly introduces Fran Vincent, but this time as a USAT Certified Coach! Fran is a perfect fit for T3 as the company looks to expand it's services & offerings to more triathletes. Having spent the past four seasons as a part of the T3 Team, she truly understands and embodies the philosophy of T3. "I am unbelievably excited to have Fran working as a coach for T3! It is without question she will be an asset to T3 and the entire triathlon community!", says T3 Owner & Coach Kevin Crossman.
Fran is a 3x Ironman finisher, including a 5th place AG finish in KONA!
To learn more about Fran, click here
.
---
September 20th, 2014 ::
T3 Coaching had another very successful season in 2014. All the athletes had improvements and personal bests! There were many Age-Group wins, overall wins, and individuals qualifying for championship events. In addition, five T3 athletes qualified for the Ironman 70.3 World Championships. The trend looks to continue into 2015 and we are looking to help YOU!!! If interested, be sure to email
kevin@t3coaching.net
before October 21st to be placed on the mailing list to receive updates on coaching and for the mandatory meeting for prospective athletes.
---
Ironman Mont Tremblant 70.3 World Championships :: Interview with the athletes
September 4th, 2014 :: 2014 has been another remarkable year of breakthroughs and accomplishments of all T3 athletes. This year brings the largest field of T3ers to a championship race - Ironman Mont Tremblant 70.3 World Championships! On Sunday, September 7th, 2014, five very deserving T3ers will toe the line against the best age-groupers in the world. T3 had a chance to interview them about their upcoming event and 2014 season.
Read the full interview here.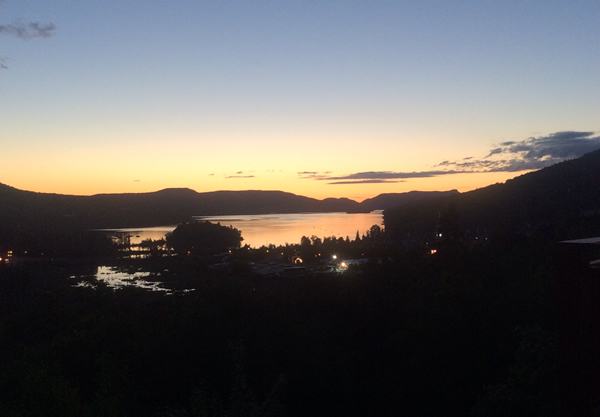 ---
Congratulations to Christine McKnight: JULY Athlete of the Month
July 1st, 2014 :: Christine is the epitome of a genuine triathlete. Way beyond her successes and accolades as an athlete, she has become a role model and inspiration to many. Having started triathlons at the age of 50, Christine has achieved many milestones, with the pinnacle being qualifying and competing at the Ironman World Championships in Kona, 2013. You will not meet a friendlier and kinder person in triathlon than Christine. It is a great honor to have her as this month's Athlete of the Month!
Click here to read more
.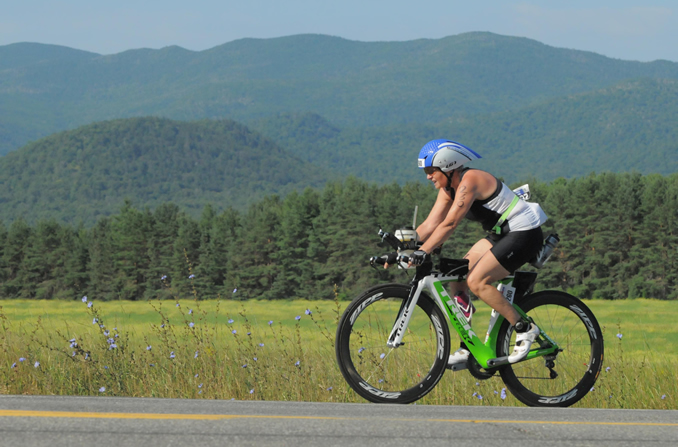 ---
MAKE IT FIVE T3ers HEADING TO THE WORLD CHAMPIONSHIPS!!!
June 21st, 2014 :: It was a very good weekend for T3ers! With athletes competing at different races, highlights were plentiful. Highlighting the weekend was up in Mt. Tremblant, at the Ironman 70.3 where
Michael Jordan
&
Mara Fronhofer
both earned spots to the Ironman 70.3 Championships back in Tremblant in September. Mara finished on the podium with a 5th place finish! Other T3ers had great races up there as well.
Brian Donahue
,
Jim Fox
,
Barb Jordan
and
Laurie Scheuing
all poured in great races!
In Hague, NY at the HITS Series we had multiple podiums.
Carl Regenauer
stood a top some of the best, taking 3rd Overall! While Sibyl Jacobson won her Age-Group!
Then in Syracuse at their 70.3
Jamie Hoyt
had a terrific day with a PR!
GREAT JOB T3!!!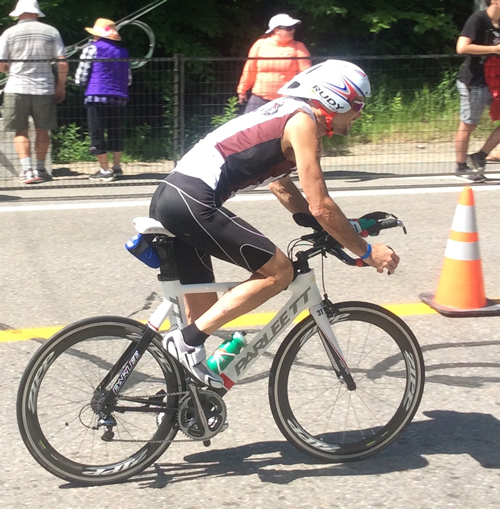 Mike Jordan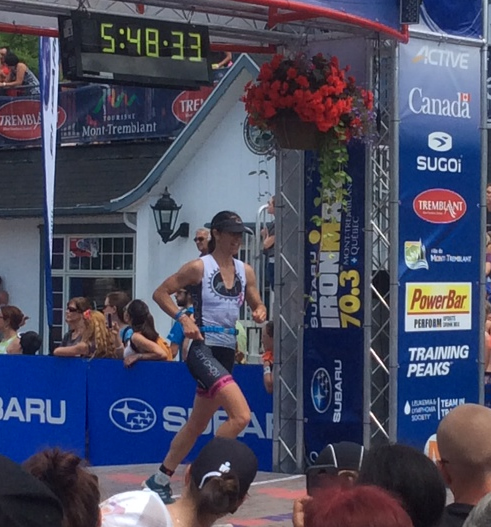 Mara Fronhofer
---
---
May 11th, 2014 :: Congratulations to all the T3ers on the final duAthlon. Leading the way was Jamie Hoyt of Binghamton with his first place victory. Carl Regenauer set the stage with a phenomenal bike split, setting the bike course record. And Sereena Coombes broke her own course record taking the women's title.
Click the
Duathlon tab
above for more info.
---
Records fall at Duathlon #2!
May 4th, 2014 ::
Results from the T3 Duathlon Race #2 are up!
Congrats to Paul Fronhofer (Moreau) &
Sereena Coombes
(Queensbury) on their victories. Paul broke the bike course record with a time of 21:08 (previously held by
Carl Regenauer
in 2012 @ 21:16), while Sereena now owns the Female Overall Record (previously shared by Sonya Pasquini and Isabelle Dickens in 2012 @ 44:43).
Next week, May 11, is the final race of the 2014 T3 Duathlon Series, that is USAT SANCTIONED with Chip Timing; also including the Kids Duathlon! Click the
Duathlon tab
above for more info.
---
April 30th, 2014 :: Queensbury, SUNY Adirondack ::
Carl Regenauer (Saratoga Springs) continued his streak of wins at the T3 Duathlon Series, claiming his fourth consecutive victory (3 in 2013) in a time of 42:58. The top female was Mara Fronhofer (Moreau) in a winning time of 48:58. Congratulations to Jack Rath (Ballston Spa) on being our youngest competitor at 11 years old! Great job!

There are two more races: May 4th & May 11th. The race on May 11th is a USAT Sanctioned Race. Information can be found clicking the duathlon tab.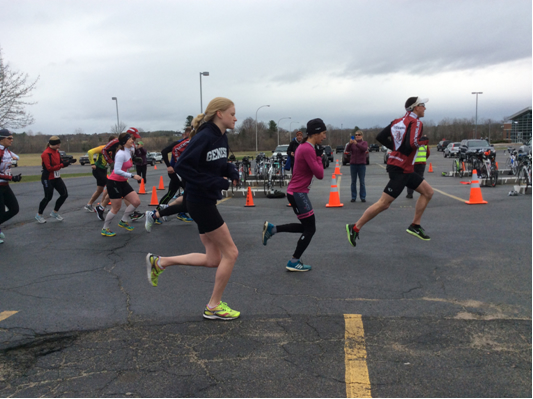 Emily Parent, Mara Fronhofer, and Norman VanDiest at the start (L to R)
---
6th Annual T3 Endurance Camp
April 26th, 2014 :: If you are looking for a challenging weekend of training, as well as walking away smarter and bettered prepared for the Triathlon season, then you would want to attend this CAMP. This camp is meant for those training for Half Ironman and Ironman distances. Coach Kevin shares his expertise individually with all the participants of the camp. Space is limited, so email quickly!
kevin@t3coaching.net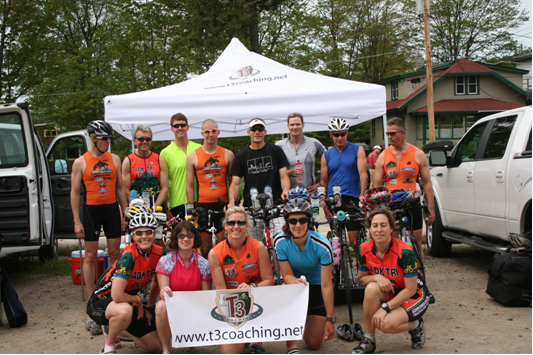 The 2010 Crew of the T3 Endurance Camp
---
Things are getting busy with T3...
April 26th, 2014 :: Now that spring has sprung, that means the Multisport Season is quickly approaching. One of the best ways to beat that cabin fever is by participating in the T3 Duathlons. Feel the need for longer training days? Well, then the T3 Endurance Camp would be for you. Held in Lake Placid, join Coach Kevin on a phenomenal weekend of training. Lastly, join in helping T3 promote a cleaner Earth. On April 22, 2014 - take part in their annual "Dash & Trash" event and post your pictures to FB (T3Coaching.net).
| | | |
| --- | --- | --- |
| The T3 Duathlons start in less than one week. April 27th, May 4th, and May 11th. The finale is a USAT Sanctioned Race. | The 6th Annual T3 Endurance Camp is being held May 17th & 18th. Register by emailing. | April 22nd 2014 is EARTH DAY! Six years ago T3ers started to do their part with the "Dash & Trash" Run. Get out and clean up your favorite running route. |
---
REGISTRATION OPEN!!! - 2014 T3 Duathlon Series
T3 is proud to announce the 5th Annual T3 Duathlon Series, April 27th, May 4th, and 11th, 2014. Registration and information for these events is now open at the
Duathlon tab above
. All three events will be held at SUNY Adirondack - located on Bay Rd. in Queensbury, NY.
Please note - these events are short,
fun
, and only a little bit competitive. They are designed more to jump start your Multisport season and work out all the "kinks".

NEW THIS YEAR
- the final event (May 11th) will be a sanctioned race and count towards your USAT Rankings.
---
---