T3Coaching is now on Facebook!


T3 Open Water Swim Clinic
On a beautiful Saturday morning, June 18th, the Kevin Crossman, along with Gary Crossman and Ted Snyder conducted the T3 Open Water Swim Clinic at Moreau Lake State Park. Topics included stroke technique, sighting, rounding marks, and drafting. Thank you to all who participated!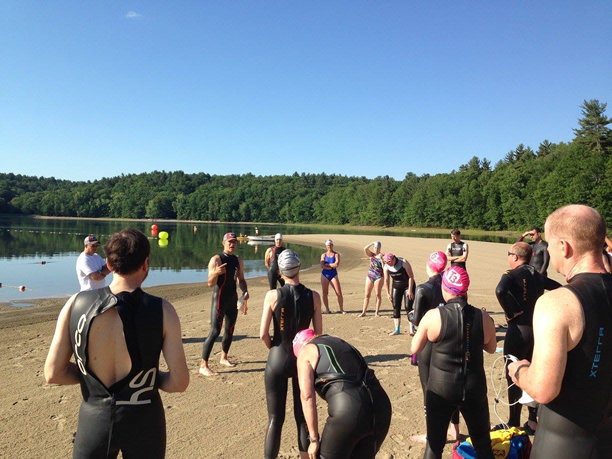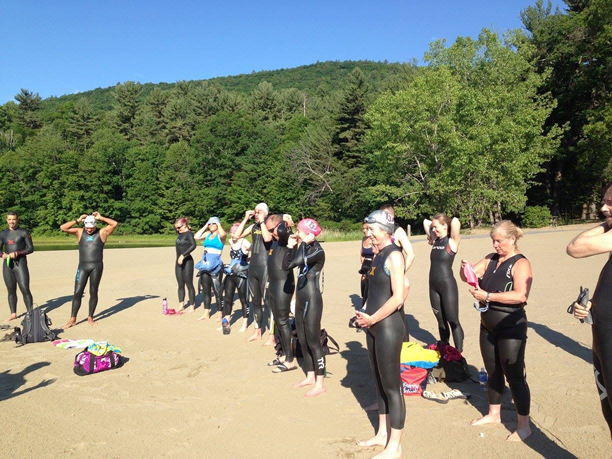 ---
Beyond the Patriot Half, T3 athletes had a busy schedule recently:
5/28-5/30: Rachel Uccellini competed in the Killington Stage Race.
5/29: Nathan Rieger (1st in AG), Ryan Keller, Steve Vnuk (1st in AG), Jeff Halusic, Christine McKnight (1st in AG), Carl Regenauer (1st in AG) and Deborah Curtis competed at the Saratoga Lions Club Duathlon.
6/12: Vincent Cooper (3rd in AG), Chris McNally (2nd in AG), Jeff Halusic (20 minutes faster than last time), Christine McKnight (1st in AG), Carl Regenauer (3rd overall), and Deborah Curtis competed at the Hudson Crossing (Sprint) Triathlon in Schuylerville, NY.
6/18: Brett Schlesier won the Great Sacandaga Challenge (Sprint) Triathlon.
6/19: Carl Regenauer (2nd overall) competed in the HITS North Country Sprint Triathlon in Hague, NY.
6/19: Jamie Hoyt competed at Syracuse 70.3.
6/25: The whole Hoyt family, Jamie, Kelly, and Aidan, competed at the Broome County (Sprint) Triathlon with Jamie winning the race.
6/26: Paul Fronhofer competed at Ironman Austria-Kärnten.
6/26: Ivy Kasallis, Laurie Scheuing, and Steve Vnuk (4th in AG) competed at Mont Tremblant 70.3.
---
USA Triathlon Coach, Kevin Crossman, will once again be leading a youth triathlon camp at Glens Falls High School, July 11th-15th (8-9:30AM). This is a terrific camp for kids grades 1-6. All three disciplines will be worked, along with transitions, etiquette, safety, and most of all - having FUN! The camp concludes with triathlon race on Friday. For the registration form, please click ...
2016 Summer Camp Registration Form for ALL Camp
...
---
With eight athletes racing, T3 Coaching was well represented at the Patriot Half on Saturday, June 18th in East Freetown, Massachusetts. With his "Rocket Fuel" on board, John MacDonald placed 11th overall with a time of 4:30:44! Whoa!! Podium spots (and really swell plastic disks) were awarded to Christine McKnight (1st 65-69) and Glori Ekberg (2nd 60-64). Lonnie and Jeff Halusic both PR'd, and showed INCREDIBLE improvement from previous HIM races. Jeff took over 48 minutes off his first HIM time! After a tough winter, Deb Curtis has made an impressive comeback and was all smiles. Ben Syden executed the Aqua Bike to perfection! Barb Flynn earns special recognition for her efforts to complete her very first HIM. She is the definition of grit! T3 athletes. . .you represented us well.
Patriot is a nice warm up for IMLP. It's flat and fun... and has that "mom and pop" feel that's often missing in the bigger races. Registration for 2017 opens October 1st.
---
T3 Coaching held its 6th annual Endurance Camp in Lake Placid during the weekend of May 15/16th, 2016. With typical Lake Placid weather...unpredictable...16 athletes were greeted with nice sunny skies one day, and snow/wind/rain the next. However, all athletes were readily prepared and executed their training to perfection! Evening activities included a group talk, focusing on proper fueling and race preparation.
---