T3Coaching is now on Facebook!
T3 Coaching readies for it's 5th T3 Endurance Camp
March 25th, 2013 :: Held in Lake Placid, athletes of all abilities are encouraged to take part in this phenomenal training trip weekend. On May 18th & 19th, participants will be treated to outstanding coaching & training, along with support vehicles during training... and (the best part) ...home cooked meals provided by the staff. This camp is a terrific training opportunity for those preparing for IMLP or if you are serious about improving overall as a triathlete (regardless of the distance you compete in). To register, please click the PayPal (Buy Now) link below.
For more information regarding the camp -
please click here
(you will need Adobe Reader to view).
---
T3 Duathlon Series is BACK!!!
February 22nd, 2013 :: Registration for the 4th Annual T3 Duathlon Series is now open. Please click here to be directed to the
Duathlon Page
.
---
June 19th, 2012 :: Most people assume the "T3" must mean T=triathlon, and 3=three sports; swim, bike, run. But actually, Coach Kevin started T3 Coaching with the idea of celebrating accomplishments with friends & family involved in the sport. Just like golf has a 19th hole, T3 follows suit... you have T1 (transition 1)...T2 (transition, bike to run)... and then there is what Coach refers to as T3 - hanging out afterwards with other racers, volunteers, family, and Teammates (teammates?!). It's about embracing the sport, not just one's accomplishments. This sport has so much more to offer than most - but only if you know what to look for.

So, what is the teammates about?

In sport, basically there are two forms: Team Sports & Individual Sports. Some personalities gravitate towards Team Sports, while most who get involved in Triathlon at the time are looking for individual success. Even Coach Kevin admits, "When I started participating in triathlon - it was a very selfish approach. I wanted a new challenge. I wanted to be good. I worked hard, and eventually got results." Almost all triathletes first get their feet wet on their own. No coach, little knowledge...just a desire to get fit again. That is awesome...and a great way to begin.
Then, as time passes and you log more miles - you meet many new faces. Maybe in the process you join a club or even get a coach, meeting even more like minded "Type A" personalities. There comes much gratification in this entire journey - which for most lasts a lifetime. Many triathletes not only become friends during training, but also in the social scene.

But still...triathlon isn't a team sport, right?!

Wait a minute! Even with all that - Coach Kevin knew something was missing for him. He loved TEAM SPORTS growing up (playing soccer, baseball, water polo) - and thought there has to be a way to bring all these "individual athletes" together and create a Team concept.
T3 Coaching has grown, and the excitement from their athletes is synergistic! All the time, athletes from different cities, different ages, backgrounds, careers, personalities - coming together to share a common bond (doesn't ring a bell when you were in high school?).
It doesn't matter who has the nicest bike, who makes the most money, who swims the fastest - it's all irrelevant when you end at the 19th hole (T3!). "It is so rewarding as a Coach when you see email exchanges taking place between your athletes about meeting up for training, or a spouse offering to "man" an aide station on a training ride, or welcome you into their home for a weekend to train on the course, or planning to have a dinner together. The list could go on. This is what I envisioned in this job...having a team! These are the same memories I carry from my experiences playing team sports for years - very little to do with the actual sport - but the memories made just on the fringe. You remember the teammate who already finished, yet ran out 2 miles to cheer you on. You remember the teammate that stopped in the middle of their own race to help change your flat tire. You remember the teammate that called you to offer advice of a course you are racing for the first time. You remember the laughs. The car rides to races. Those moments are fun...and guess what??? Triathlon should always be too!

The athletes of T3 are great! They have ultimately made T3 Coaching what it is today. Quality Coaching with phenomenal athletes - that understand the BIG picture. And that... is a TEAM!

THANK YOU T3 - WHAT FUN WE HAVE!!!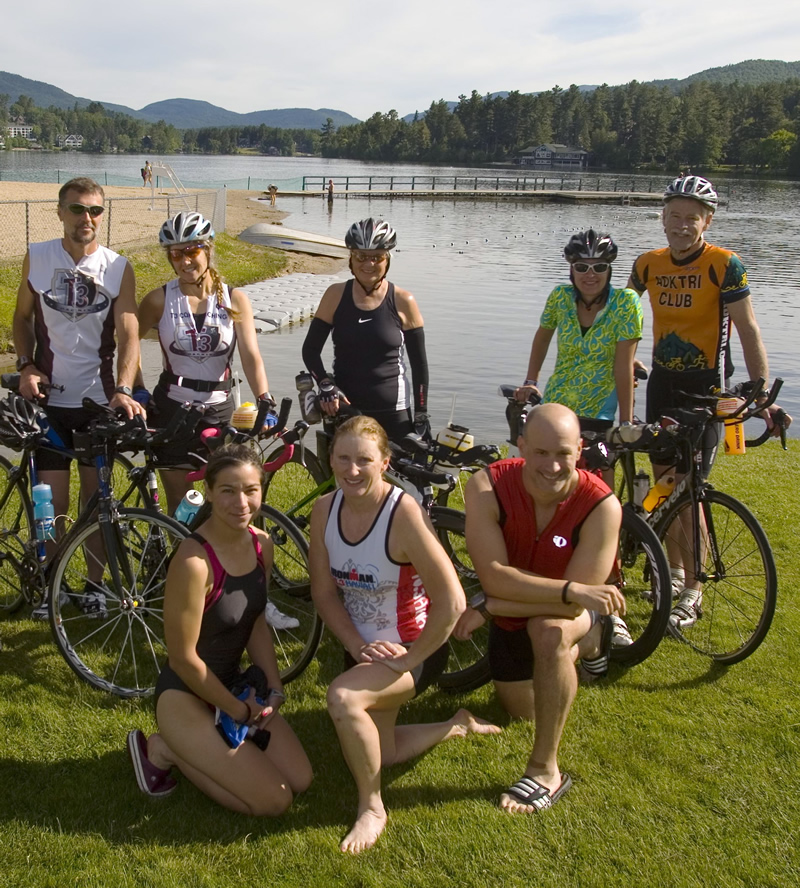 June 16th, 2012... T3ers coming together for a wonderful training day on the Ironman Lake Placid course. (L to R) Michael Jordan, Barbara Jordan, Christine McKnight, Krissy LeClair, Bill Nealon. Kneeling: Kim Didrich, Laurie Scheuing, and Ben Syden
---
---