Happy New Year!
Session 1 of T3 Virtual Spin Classes turned out to be better than we thought! With over 30 participants logging in weekly. We want you to join us for session 2 (session 2 includes the infamous NEON night!!!). Tuesday evenings, starting January 26th!
The beauty of these classes... no matter where you live, the bike you ride, the trainer you have, or what shape you are in - YOU WILL GET AN AWESOME WORKOUT!
How it works:
4 EASY STEPS
If you have already signed up for Session 1 - nothing is needed.
If you are signing up for Session 2, please follow the steps below:
1) Complete the registration form ::
http://bit.ly/T3Spin2
2) Once registered, you will receive an email with a Zoom Link that is used weekly.
3) Prior to first class (1/26/2021), log in early to make sure your set up is working.
Tips: Position camera where we can see you. Have your device within arms reach to unmute/mute when needed.
4) Secure the bike to your trainer... have some sweat towels and water bottles... and then spin away :-)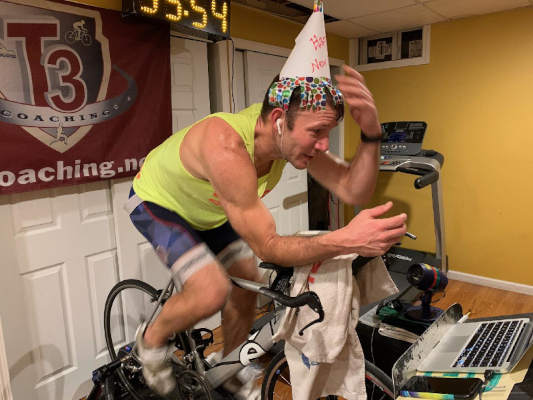 Coach Kevin enjoying a Spin Class
---
MEET our T3 January ATHLETE of the MONTH, Paige Montanye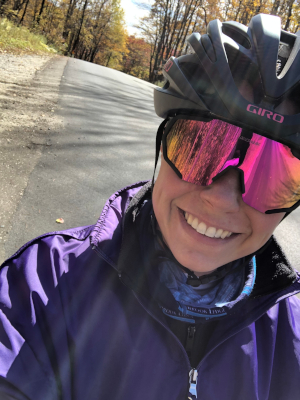 Paige splits time working in Saratoga during the summer and Florida in the winter as a thoroughbred veterinarian assistant. The long, arduous hours don't stop Paige from putting in the workout time for triathlon. This year, despite having her races cancelled, Paige made huge fitness gain on the bike and added serious swim speed.
For more about Paige click here...
---
MEET our T3 December ATHLETE of the MONTH, Lara Vivolo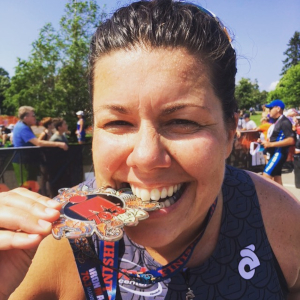 Congratulations to our Athlete of the Month, Lara Vivolo. When the pandemic started, choices were made... "survive or thrive." Lara took notice and decided she didn't just want to get through this time, but instead use it as an opportunity to put herself on a track towards long term success/health and enjoyment. For the past 6 months, that is exactly what she has done. Through consistent training, motivation to create a better self, and the fun factor - seeing her progress has been exceptionally rewarding. Lara continues to make gains daily, achieving benchmarks that may have seemed far-fetched not too long ago. We are unbelievably proud of Lara and can't wait to see what 2021 brings.
Click here to read more about Lara!
---
MEET our T3 November ATHLETE of the MONTH, Erika Eckrote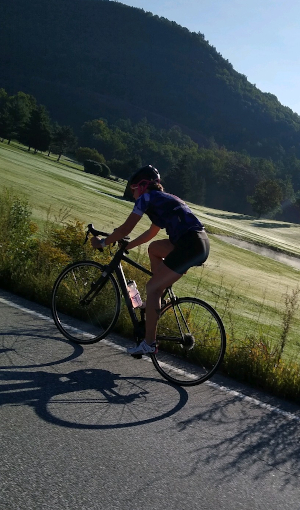 Congratulations to T3's November Athlete of the Month, Erika Eckrote! When her first A race was cancelled (AG nationals) and her second went virtual (Pumpkinman), Erika did not miss a beat in her training. This summer she turned training into a lifestyle habit, and through consistent training set a 5 minute virtual Pumpkinman PR. Now almost two months removed from race season, she stays active at least 6 days every week, and we know she will only be stronger next year's race season.
To find out more about Erika click here
.
---
SPIN FROM HOME!!!
T3 Coaching
is super excited to offer their Spin Classes virtually this year. These HIGH energy, extra fun, and intense sessions will have you in amazing shape come spring. So, no matter where you live... you can be a part of the action!!!
These classes are available to anyone! Simply fill out the attached form, send along payment, and you'll be added to the class.
~All details are listed in the form below.~
Classes will be using the ZOOM platform.
There will be two sessions (Session 1 begins 11/10. Session 2 begins 1/26).
We are offering a referral program as well for those who have previously participated in our classes. Get others to join and save $$$.
#T3PROUD
#T3SPINCLASS
Click here to register ::
https://docs.google.com/forms/d/1QlxdQaG8gEzc6ArTsmHBt_A7juLFa6aAO47cLg1itPI/viewform?gxids=7757&edit_requested=true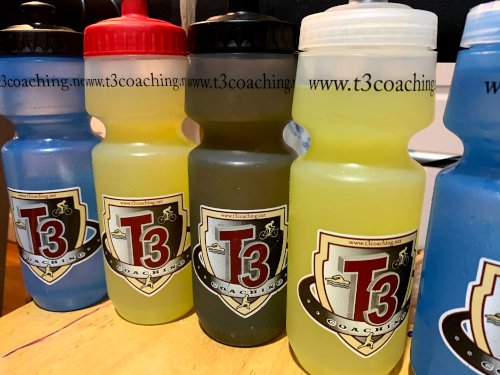 ---